A Time of Transcendence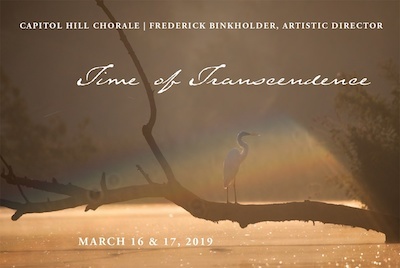 Turning once again to the Chorale's partnership with Composer-in-Residence Kevin Siegfried, this concert will feature Siegfried's work At the Water's Edge, and a new composition featuring the writings of Rachel Carson, American marine biologist, author, and conservationist responsible for the well-known book Silent Spring. This concert explores the transcendental experience of nature, from the meditative flow of a forest stream to the inspiration of dawn breaking over the horizon.
We are very pleased to welcome members of the Anacostia Watershed Society, which is celebrating its 30th anniversary. Learn more about this group and their efforts to reclaim the beautiful waterways in our own back yards.
Join us for A Time of Transcendence.
Photo used with permission: Krista Schlyer, 2015. From her book River of Redemption, a photographic essay of the Anacostia River. Learn more at kristaschlyer.com
Showtimes
March 16th, 7:30pm
March 17th, 4pm
Location
Capitol Hill Presbyterian Church, 4th and Independence SE, Washington DC
Tickets
General seating: $25
30 and under: $15
12 and under: Free


Brown Paper Tickets Ticket Widget Loading...

Click Here to visit the Brown Paper Tickets event page.