Bolivian Baroque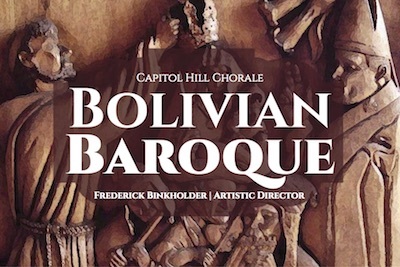 As Artistic Director Frederick Binkholder has spent the past decade studying the music of the Bolivian Baroque, it is time to share these works with the CHC community! Featuring the baroque ensemble Modern Musick, the concert will be an intriguing departure from the standard holiday repertoire. Guest lecturer and Bolivian Baroque expert and musicologist Dr. Piotr Nawrot, SVD will join us for this concert.
Single tickets now on sale
OR
Purchase a season ticket! Get all three concerts and save 15%!
Showtimes
December 1st, 7:30pm
December 2nd, 4pm
Location
Lutheran Church of the Reformation, 212 East Capitol St NE, Washington, DC
Tickets
General seating: $25
30 and under: $15
12 and under: Free


Brown Paper Tickets Ticket Widget Loading...

Click Here to visit the Brown Paper Tickets event page.