Journey to Georgia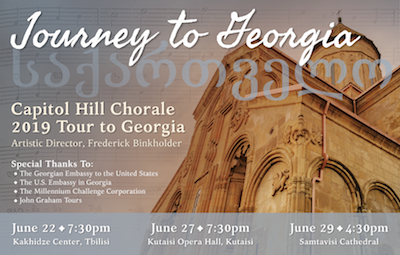 The Chorale will embark on an international music tour to Georgia in June 2019, under the direction of Artistic Director Frederick Binkholder. This tour offers unique opportunities to build musical partnerships with the artistic community in Georgia. There, the Chorale will share Zakaria Paliashvili's Georgian Sacred Chants on the Liturgy of St. John Chrysostom along with selections from America's early musical traditions, spirituals, jazz, and modern interpretations of Shaker music.

From June 19-30, members of the Chorale will travel through Georgia and perform several concerts in Tbilisi and Kutaisi, in partnership and with the generous support of the United States Embassy in Georgia. The tour is the first of its kind, showcasing the Chorale's unique musical repertoire and building on the relationship between the Chorale and Georgia. The Chorale will perform alongside the Georgian State Choir at the Kakhidze Tbilisi Center for Music and Culture, at the Kutaisi Opera House with the Kutaisi Opera Choir, with additional appearances at the Paliashvili House Museum, Samtavisi Cathedral and Gelati Monastery.
Learn more about this remarkable opportunity for choral diplomacy.
Programs will include one or more selections from the following works:
Georgian selections:
Georgian Sacred Chants on the Liturgy of St. John Chrysostom by Zakaria Paliashvili
Erekles Mravalzhamier anonymous
Mravalzhamier as taught by Carl Linich
Zogan irmebis jogia, Georgian city song, music by Shota Milorava
American selections:
Vum Vive Vum by Kevin Siegfried
Lay Me Low by Kevin Siegfried
The Farthest Field by Kevin Siegfried
Soar Away by A.M. Cagle
Fare Ye Well arranged by Brazeal W. Dennard
The Battle of Jericho, traditional spiritual arranged by Moses Hogan
My Lord, What a Morning Harry T. Burleigh
Embraceable You by George & Ira Gershwin, arranged by Teena Chinn
Showtimes
June 22nd, 7:30pm, Jansugh Kakhidze Center, Tbilisi
June 23rd, 4:30pm, Tsinandali Palace, Kakheti
June 27th, 7:30pm, Kutaisi Opera House, Kutaisi
June 29th, 4:30pm, Samtavisi Cathedral, Samtavisi
Location
various including Kakhidze Center in Tbilisi, Kutaisi Opera House in Kutaisi
Tickets
Ticket information is available at the individual venues.