The Path of Solace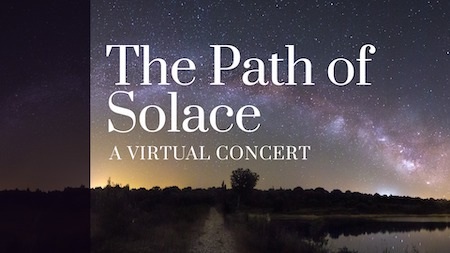 Path of Solace is dedicated to reflections on loss: overt pain, comfort in remembrance, and healing. It is a celebration of those who are no longer with us, presented with love and grace. Our season, The Paths Forward, is designed to bring us back together after our long separation and to rejoice in that process. Each concert is dedicated to once again finding joy in each other, joy in song, joy in performing, and joy in listening. The Path of Solace is the first step in that process.
There are no virtual choir recordings in this concert! While we had hoped to present Path of Solace in person to kick off the season, we had not reached our required numbers for COVID-19 transmission in the area to allow us to come together up on the risers. Instead we have recorded this concert in-person in the sanctuary of Lutheran Church of the Reformation, which allowed us to distance appropriately and present this concert safely to you, our audience.
Like our previous virtual concerts, this performance will take place via Zoom Webinar. This will allow you all to chat with one another via the Zoom chat, ask Fred questions using the Q&A function, and attend the event live with us, but you won't be able to "see" one another or use your video or audio to talk to each other. You will receive the link to attend after you register for your ticket on Ti.To (https://ti.to/CapitolHillChorale/path-of-solace). You will also receive a YouTube link to the performance closer to the day of the event if you'd like to watch the performance clips on a bigger screen. Please note that that video will not include any of the live discussion taking place on Zoom Webinar.
Because of size limitations on Zoom, the concert is limited to 500 attendees, so be sure to reserve your space on Ti.To. While we have suggested a ticket price of $15 to attend, this is a pay-what-you-can event and all proceeds go directly to the Chorale. We appreciate anything you can give to support CHC while we all navigate the effects of the coronavirus together and our return to in-person events and rehearsals.
Program:
Lamentations 1, Juan de Lienas (1617 - 1654)
3 Songs, Philip Glass (b. 1937)
Solace, Scott Joplin (1868 – 1917)
Lay a Garland, Robert Lucas Pearsall (1795 – 1856)
Rest, Ralph Vaughn Williams (1872 – 1958)
Music When Soft Voices Die, Eric Nelson (b. 1959)
Narragansett: Expand Thy Wings, Thomas Commuck (1804 – 1855)
Ye Shall Have a Song, Randall Thompson (1899 – 1984)
Angel Band, arr. Shawn Kirchner (b. 1970)
Showtimes
Friday, November 12th, 7pm
Location
Virtual - available livestream and on-demand for later viewing
Tickets
$15 (suggested donation)