The Path of Tradition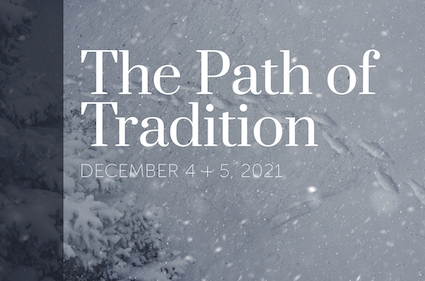 Join us on Saturday, December 4 at 7:30pm and Sunday, December 5 at 4:00pm for The Path of Tradition, the next concert in our 2021-22 Season. The performance will feature holiday favorites alongside new literature for the season. A cherished carol or fireside tune can evoke memories of family gatherings, warm homes filled with laughter and light, and traditions of faith and spirituality. It is a welcome return to in-person concerts for the Chorale and will be a great way to kick off the holiday season. Purchase tickets here!
We intend to perform The Path of Tradition in person on both days. In order to do that, we are requiring proof of vaccination and masking for all attendees, as well as limiting the capacity of each concert to allow for distancing. Specific requirements for all policies are listed at on our COVID-19 FAQs page. We do not have the capacity to accept negative COVID-19 Test Results in lieu of vaccination.
Because of that, we are also offering an On-Demand ticket option for those that cannot or choose not to attend this concert in person. The video recording of this concert will be available after December 17 and a link to access it will be distributed via email at that time. We are still determining if a live stream will be possible, but if it is, it will take place during the performance on Sunday, December 5 at 4:00pm (in addition to the concert recording). Everyone who purchases a ticket to attend in person will also receive access to the On Demand options. We will be certain to update everyone as soon as we have confirmation of our plan for a live stream.

Concert Program:
Have Yourself a Merry Little Christmas - Valerie Capers
Hodie Christus Natus Est - Kola Olawabi
I Sing of a Maiden - Kevin Allen
No La Debemos Dormir - Christine Whitten Thomas
Selections from the 100 Carols for Choir, edited by David Wilcox
Showtimes
Dec 4: 7:30pm
Dec 5: 4:00pm
Location
Lutheran Church of the Reformation
Tickets
$30 General Admission
$25 Junior Admission (13-30)
Free Child Admission (12 and under)
$15 On-Demand Virtual Admission
All tickets are Pay-What-You-Can