Vidimus Stellam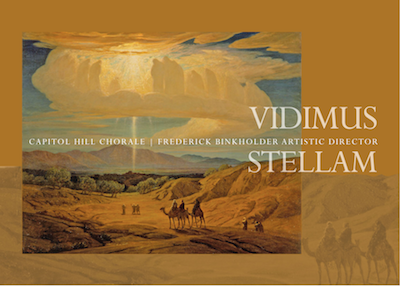 Looking skyward to the Star of Bethlehem, we invite you to a heavenly holiday concert featuring celestial sounds of the season for chorus and brass. Join the Capitol Hill Chorale as we open the holiday season with the premier of a new cantata by our composer-in-residence Kevin Siegfried.
Program
Star in the East - Southern Harmony
Averitt - Star in the East
Gabrieli - In ecclesiis
Pachelbel - Magnificat
Georgian Chant - Megruli Alilo
Pokrovsky - Evening Star
E oi nye pa moriu bylo - Trad. Terskie Kazaki
Kopylov - Svete tihiy - Heavenly Light
Daley - Ave Maris Stella
Woo - O Magnum Mysterium
Haydn - The Heavens are telling
Siegfried - Vidimus stellam
I. O Oriens
II. Rorate Caeli
III. Hodie Christus Natus Est
IV. Surge, Illuminare
V. Vidimus Stellam
Kirchner - Unclouded Day
Showtimes
December 3rd, 7:30pm
December 4th, 4pm
Location
Lutheran Church of the Reformation, 2nd and East Capitol NE
Tickets
Preferred seating: $25
General seating: $20
30 and under: $15
12 and under: Free


Brown Paper Tickets Ticket Widget Loading...

Click Here to visit the Brown Paper Tickets event page.