CHC Joined Barracks Row Fall Festival and Silence the Violence
We were very proud to be a part of two wonderful events in DC last weekend: Popping up at the Barracks Row Fall Festival and joining in the Silence the Violence concert in support of the TraRon Center here in DC!
It was a perfect day for the Barracks Row Fall Festival! We took the stage twice, performing a selection of pieces from our repertoire including crowd-favorite Vum Vive Vum and two other pieces by our composer-in-residence Kevin Siegfried, Georgian folk songs, and Cole Porter's Let's Do It. We also wandered down the fair grounds in caroling mode, stopping to serenade staff at tents and tables from local organizations, agencies, and businesses. We even had a chance to sing for the reigning Miss DC Allison Farris!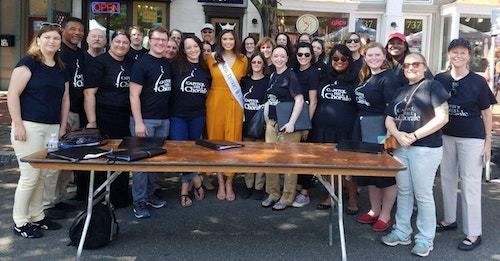 Later in the evening, we joined the Silence the Violence concert at the National United Methodist Church to benefit the TraRon Center in Southeast DC, part of a nationwide event to bring attention to the cost of gun violence in the US. The TraRon Center offers a comprehensive program of individual and group counseling, therapeutic arts, and programming designed to raise community consciousness about the impact of gun violence. The evening featured groups from across the DMV, along with speakers whose lives have been impacted by gun violence. The evening's concert was very moving and truly an honor to participate and help raise funds for these important programs.
Where will CHC pop up next? Follow us on Facebook to find out!